In Mysteries of the Management Class, DTS Software CTO Steve Pryor offered viewers an in-depth look at the Management Class construct. Management Class determines the lifecycle of a dataset, but its construct has some mysteriousness about it that warrants a deeper dive.
In contrast to other constructs, Management Class comes into play after datasets are allocated so there is still some configuration you'll want to do at times with this class. The eight pages of Management Class attributes describe where and how long a dataset "lives," and are closely related to other storage management components, including OAM, disk storage products such as FDRABR and DFSMShsm, and DFSMSrmm tape management.
The growing number of attributes that can be specified in the Management Class determines what backups are needed, how many backups are needed and if/when the dataset can be migrated, and includes both availability management and space management parameters. Space and availability management functions aren't performed by the operating system itself, but by the DASD manager. Because these space management functions ensure there is sufficient free space in the system you need to have the understanding of management class configurations to effectively run the production workload, including dataset migration, recall and even deletion.
Watch "Mysteries of the Management Class" on Demand
If you weren't able to attend Mysteries of the Management Class, you can view it on demand using this link. You'll also find many other informative and educational on-demand webinars from DTS here.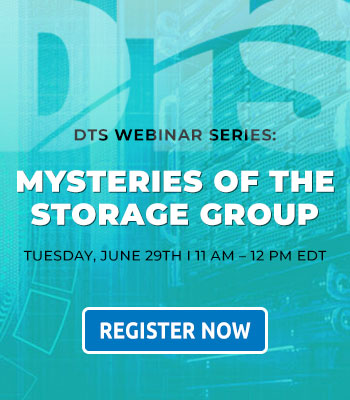 June 2021 Webinar: "Mysteries of the SMS Storage Group"
Don't miss the fourth part of our SMS Mysteries Series: Mysteries of the SMS Storage Group on Tuesday, June 29th at 11:00am ET. Of the four major SMS constructs, the Storage Group is one of the most important, and at the same time one of the most misunderstood. The Storage Group sits at the boundary between datasets, volumes, and storage managers such as DFSMShsm and FDRABR, critically affecting the use of each. There are seven different types of storage groups, each having different attributes and each appropriate for different types of data. The storage group definitions have an important impact on reliability, including on the availability of free space in the system and the placement of datasets on volumes. The June webinar will explain the role that Storage Groups play in DFSMS and the best practices for defining and using them. You can now watch it on demand here.
---
On Wednesday, July 14th at 1:00pm EDT, we'll be back with an event presented by TechChannel and hosted by Pryor along with guest and IBM Champion Reg Harbeck. Aggregation without Aggravation: When Putting More Log Data in Your SIEM is a Good Thing will focus on storage event awareness and why the data from it is a great addition to your SIEM events for better security and compliance visibility. You can register here. We look forward to seeing you at these presentations!