Register for Webinars
Welcome to the DTS Software Webinar registration page. Our company periodically schedules 40-60 minute webinar sessions about DTS products and/or product features. Please use the following links to reserve your space.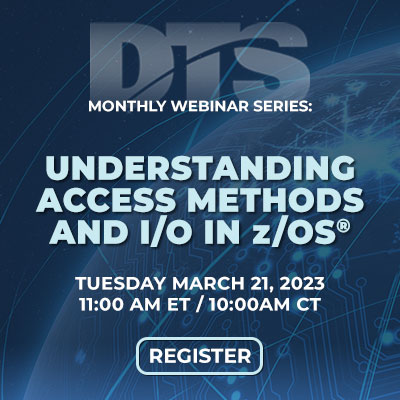 TITLE: Understanding Access Methods and I/O in z/OS®

DATE: Tuesday, March 21, 2023 | 11:00 a.m. ET / 10:00 a.m. CT
DETAILS: Reading and writing files in z/OS® systems differs markedly from similar processes in other architectures. A combination of dataset structure, control blocks, and macros, called an Access Method, allows programs to read and write data on the record or block level, control buffering, provide sequential or direct access, and end-of-file processing.
In this month's webinar, we'll discuss the unique features of z/OS access methods (BSAM, QSAM, VSAM), control blocks (the DCB, JFCB, TIOT), and macros (GET/PUT, READ/WRITE) that are the basis for reading and writing all types of datasets in mainframe systems.
Attending a Webinar:
The DTS Webinars use the GoToWebinar™ software from LogMeIn, Inc. After registration, DTS will email you a meeting ID. Shortly before the scheduled DTS Webinar, you will receive an email with a unique link.
You do not need to pre-install any software prior to joining the meeting. GoToWebinar uses a web interface in your browser for the video portion of the meeting. A phone number will be provided for the audio stream. Note: You will participate as a guest of DTS Software – there is no cost to you or your company except for telephone charges.
Recorded Webinars:
The webinars are typically recorded and uploaded to the DTS website a few days after the live presentation. The following table lists all the DTS webinars sorted by date. To access recorded webinars for specific products, visit the product pages and select the Resources tab.
Feb 21  2023
Introduction to Virtual Tape and Tape Management
ZCC/DCC
ACC
139
MB
60 Minutes
Jan 24  2023
Understanding Your ACS Routines
ACC
SMS
130
MB
66 Minutes
Nov 29  2022
ISMF for Non-Storage Administrators
ACC
MON
148
MB
65 Minutes
Oct 25  2022

SLIP, ZAP, Terse, XMIT: What's It All About?

ACC
SRS
125
MB
58 Minutes
Sep 27  2022

SYS1.PARMLIB: What is it? What's important? Why?

ACC
SMS
110
MB
59 Minutes
Aug 30  2022
How to Back Up and Restore a Dataset in z/OS

®

ACC
SMS
107
MB
57 Minutes
Jul 26  2022
An Introduction to JCL
SCC
JCL QA
87
MB
60 Minutes
Jun 21  2022
How to Read a z/OS

®

Assembler Listing
SRS
91
MB
63 Minutes
May 24  2022
Getting What You Need – With REXX Execs
SRS
ACC
138
MB
63 Minutes
Apr 26  2022
Introduction to z/OS

®

Tape Management Systems
SRS, ACC
SMS
96.5
MB
65 Minutes
Mar 15  2022
Understanding IDCAMS
SRS
SMS
115
MB
67 Minutes
Feb 15  2022
An Introduction to z/OS

®

Sort
SRS, ACC
SMS, EXT
95
MB
63 Minutes
Jan 25  2022
An Introduction to z/OS

®

Utilities
SRS, ACC
SMS, EXT
113
MB
66 Minutes
Nov 30  2021
We've Got a Problem: An Introduction to z/OS

®

Dumps and Debugging Tools
ACC
SMS
151
MB
62 Minutes
Oct 26  2021
Understanding z/OS

®

Disk Metadata – Catalogs, VTOCs, VVDSs, Indexes, and More
ACC
121
MB
65 Minutes
Sep 21  2021
Secure Data for Everyone – Pervasive Encryption and z/OS

®

Storage Management
SMS
ACC
89.3
MB
60 Minutes
Aug 24  2021
PDS, PDSE, GDG, HFS, USS and Other Strange z/OS

®

Animals
SMS
112
MB
63 Minutes
Jul 14  2021
Aggregation without Aggravation: When Putting More Log Data in Your SIEM is a Good Thing (A joint presentation with TechChannel, formerly IBM Systems Magazine) 
SMS
104
MB
62 Minutes
Jun 29  2021
Mysteries of the Storage Group – (part 4 of our series on "The Mysteries of SMS")
SMS
JCL
108
MB
61 Minutes
May 25  2021
Mysteries of the Management Class and the Data Set Life Cycle – (part 3 of our series on "The Mysteries of SMS")
SMS
JCL
114
MB
61 Minutes
Apr 20  2021
Mysteries of the Storage Class – (part 2 of our series on "The Mysteries of SMS")
SMS
JCL
117
MB
66 Minutes
Mar 23 2021
Mysteries of the Data Class (and more) – (part 1 of our series on "The Mysteries of SMS")
SMS
JCL
101
MB
60 Minutes
Feb 23 2021
Introduction to ISMF Test
SMS
104.59
MB
61 Minutes
Jan 26 2021
Exclusive Customer Webinar **Customer-only event — login credentials required**
SMS
94.86
MB
60 Minutes
Dec 08 2020
What's a Manual Robot? Understanding System-Managed Tape
SMS
101.00 MB
62 Minutes
Nov 10 2020
Don't Overdraft that Account! – Controlling Disk Space Use with DLIMIT
DLM
79.00 MB
47 Minutes
Oct 06 2020
Using REXX with DFSMSrmm
General SMS
85.96 MB
51 Minutes
Sep 15 2020

An Introduction to Traditional DASD Backup and Recovery with DFSMShsm and FDRABR

General
SMS
89.81 MB
60 Minutes
Aug 04 2020
EXT
104.00 MB
62 Minutes
July 07 2020

Manage Your WTOs Traffic – Centrally, Efficiently, and Reliably with Easy-Exit

EXT
72.96 MB
43 Minutes
June 09 2020

Take Control of Your SMS Environment – with SMS/Debug and Audit

SMS
59.00 MB
40 Minutes
May 05 2020

Supercharge Your I/O – Performance Buffering with Allocation Control Center

ACC
86.99 MB
49 Minutes
Jan 14 2020

'Tis the Season for Space Abends – Preventing DASD problems with SRS

SRS
96.32 MB
57 Minutes
Oct 29 2019
DLM
77.83 MB
48 Minutes
Aug 27 2019

Virtual Tape Migration Experience using ZCC and the Optica zVT

ZCC
86.21 MB
66 Minutes
Jul 16 2019

No Assembler Required! – Leveraging DFSMShsm, FTP, RACF, and more with EASY/Exit

EXT
55.44 MB
48 Minutes
Jun 11 2019
ACC
SRS
66.85 MB
47 Minutes
May 07 2019

How Accurate Is Your DFSMS Environment? Introducing SMSAUDIT New Function for SMS/Debug

SMS
64.31 MB
51 Minutes
Oct 26 2017

Reliable, Secure FTP Transfers are Possible – Let us tell you how

EXT
65.81 MB
59 Minutes
Jun 15 2017
Monitor
SMS
123.59 MB
57 Minutes
Feb 09 2017
EXT
55.11 MB
50 Minutes
Jun 16 2016

Exit Routines to Improve System Functions – No Assembler Required

EXT
76.89 MB
53 Minutes
Mar 17 2016
ZCC
102.38 MB
57 Minutes
Dec 03 2015
Tis the Season to have some fun with DFSMS – Testing and Tracing ACS
SMS
80.21 MB
49 Minutes
Apr 23 2015
DFSMS-ACS coding can still be confusing to say the least!!
SMS
142.69 MB
63 Minutes
Feb 10 2015
SRS
122.78 MB
54 Minutes
Dec 18 2014
EXT
70.89 MB
46 Minutes
Oct 28 2014
Monitor
75.52 MB
54 Minutes
Jul 29 2014
Everybody needs a little help sometimes with DFSMS and ACS!
ACC
SMS
88.40 MB
52 Minutes
Jun 26 2014

Custom Tailor z_OS for Mission-Critical Applications via Exit Routines

EXT
63.28 MB
43 Minutes
May 20 2014
Understanding How to Control, Manage, and Report on the EMC DLm
DCC
93.82 MB
58 Minutes
Apr 08 2014
ACC
100.53 MB
63 Minutes
Feb 25 2014

Extended Address Volumes(EAV) – Rather manage fewer large volumes than many small volumes? You Betcha!

ACC
Monitor
SRS
93.56 MB
64 Minutes
Jan 23 2014
DLimit
75.32 MB
51 Minutes
Dec 17 2013
Owning and Understanding Your ACS Routines
SMS
86.74 MB
60 Minutes
Nov 07 2013
Monitor
64.42 MB
42 Minutes
Sep 26 2013
Monitor z_OS Storage via Graphical User Interface_ Live Demo
Explorer
118.41 MB
75 Minutes
Aug 22 2013

Things Storage Managers need to Monitor – DASD, Tapes, Dlm, Etc

Monitor
78.82 MB
47 Minutes
May 23 2013
SRS
119.47 MB
58 Minutes
Apr 23 2013
Virtual Tape Migration to DLm – User Experience Overview
DCC
89.06 MB
54 Minutes
Mar 28 2013
Quality Assurance and Debugging DFSMS ACS Routines – Simplified
SMS
95.40 MB
52 Minutes
Feb 26 2013

Storage Management Software Products – What are They? Do I Need Them? What Can I Do with Them? (Part 2)

ACC
EXT
Monitor
SRS
DLimit
107.04 MB
55 Minutes
Jan 29 2013

Storage Management Software Products – What are They? Do I Need Them? What Can I Do with Them? (Part 1)

ACC
SRS
118.89 MB
1 Hour
Dec 13 2012

Eliminate Assembler Coding while Meeting Your Installation's Needs with Easy/Exit

EXT
79.79 MB
56 Minutes
Oct 25 2012
DCC
Monitor
52.44 MB
35 Minutes
Jul 24 2012

Monitor and the New Reporting feature for IBM TS7700 Virtual Tape

Monitor
73.95 MB
50 Minutes
Jun 07 2012

Preventing Production Problems Before They Occur with DTS Products

ACC
EXT
Monitor
94.90 MB
55 Minutes
Mar 27 2012
ACC
DCC
ZCC
76.21 MB
51 Minutes
Feb 28 2012
DTS Software's New Product – JCL-QA
JCL-QA
83.68 MB
52 Minutes
Jan 26 2012
DCC
70.60 MB
53 Minutes
Dec 01 2011
DCC
113.81 MB
67 Minutes
Oct 25 2011
Managing Your z_OS Storage Environment More Efficiently
Multiple
Products
99.80 MB
56 Minutes
Sep 20 2011
DCC
81.78 MB
50 Minutes
Aug 23 2011
DASD Space Error Elimination – Best Practices and New Features of SRS
SRS
104.02 MB
62 Minutes
Jul 21 2011
DCC
77.93 MB
61 Minutes
May 26 2011
DCC
81.06 MB
47 Minutes
Apr 26 2011

SMS Managed Manual Tape – What is it and how does it compare to DLMALLOC

DCC
119.30 MB
60 Minutes
Mar 24 2011
Controlling Tape-on-Disk with DCC
DCC
97.07 MB
55 Minutes