SCC MONitor  can examine examine and report on data from many different input sources and tailor report and control statement output to any format. Data sources can include:
DFSMS storage groups and Tape Libraries
VTOCs, Catalogs, and DADSM Events
DFSMShsm control files and logs
JCL libraries and more
The DTS Policy Rules Engine is invoked by SCC MONitor to select records from the input source, format the output, and take actions such as:
Output to standard batch reports
Write to User-defined Log Files or SMF records
Send Email or notifications via WTOR or TCPIP
Start Jobs, STCs or take other installation-defined actions
The illustration below lists the system and installation components available to the application, and the output processing to the Monitor jobs and/or started tasks.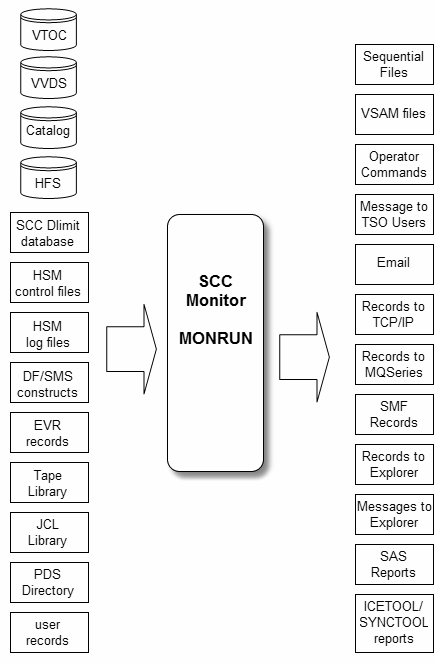 SCC MONitor includes the following components: MON-Snapshot, MON-RTM, MON-HSM, MON-ISPF, MON-Explorer and MON-iPhone.
MON-Snapshot is the core component of SCC MONitor, and can be executed in batch or run as a started task. Installations typically run multiple instances of MON-Snapshot – batch jobs for scheduled storage management snapshots and started tasks to handle transaction requests from MON-ISPF, MON-Explorer GUI, or MON-iPhone application.
MON-RTM is used to monitor real-time storage management events using the DADSM POST processing exit and capture HSM events. This component can also be used to send storage event records to a MySQL database. The MON-Explorer application can use the database for storage analysis and trends evaluation.
Storage administrators can use MON-ISPF, the MON-Explorer PC GUI or the MON-iPhone clients to interact with SCC MONitor. In addition to the storage management requests, the clients can issue MVS Console and TSO commands,and run system utilities, as well as third party software products. For example, an administator can use ISPF to display the current storage pool utilization, and then drill down to the volume or data set level. While this example below is relatively simple, the client interface can access any of the components listed on the left side of the above illustration. Also, the MON-ISPF, MON-Explorer and MON-iPhone interfaces are easily modified to customize the output format and/or imbed custom commands.
Background Monitor – MON-Snapshot can be run as a batch job or started task to take snapshots of a data center's storage subsystem – Storage Groups, VTOCs, Catalogs, HFS, DFSMS, HSM control files and logs, IBM Tape Libraries, JCL libraries.
MON-RTM can be used to continuously watch storage events, and automatically invoke installation-specified actions when threshold conditions are triggered. This real-time monitor component uses the DADSM and SMF exits to capture storage management events.
Both the snapshot and real-time monitors use installation rules to generate reports, send messages, create files and/or take automated actions.
Interactive Monitor – Storage administrators can also use the Monitor ISPF interface, the PC-based MON-Explorer application, or the MON-iPhone client to make SCC MONitorr function requests, display the results and/or issue commands.
Easy Installation – Monitor requires almost no rule setup.
Monitors status of storage pools and volumes in a data center
Monitors in real time whenever a storage related event occurs
Scans volumes and pools to check for free space, fragmentation level, and VTOC index problems
Provides up-to-date info regarding DASD utilization
Invokes actions when thresholds are reached
Problem Prevention
Prevents problems before they occur
Provides early notification of impending situations (e.g.: dataset migration, expiration, excessive size)
Aid to capacity planning & problem solving
Automated Process
Automatically scans volumes
Automatically invokes actions when thresholds are reached
Eliminates manual intervention
Integrates with DFSMShsm
Monitors & controls DFSMShsm
Displays error records
Provides statistics
The marketing literature is available to all visitors. The product manuals are only available to registered customers and companies trialing DTS products – login is required. To request authorized access, please complete the 
Registration
 form. DTS customer support will review your request. Upon approval, you will receive access notification by E-mail within one business day.
"SCC MONitor has prevented problems from happening since it's set up to notify our group if pools fall under set thresholds. The product has some great reporting capabilities, and is used not only by support groups but by some customers have requested access to it. SCC MONitor was easy to install and the support team is the best group I have ever worked with."
Jim Borus
IBM Global Services
MF Storage Management
"The DTS Software products are wonderful! We would not be able to run without them. We also experience significant cost savings, since the products' efficiencies allow us to maintain a smaller DASD farm."
Dave Cebell 
The Dallas Morning News
"We find SCC MONitor extremely useful, especially when combined with automation in order to provide notification to users. We set threshold levels that interface with defined messages that get sent (via email, pager, etc) to users as notification. E.g., "Pool XYZ is 85% full, please make appropriate adjustments". This monitoring and messaging process provides real-time information without the necessity of manually reviewing it."
George Arangelovich
ACXIOM
"Recently someone asked me if anyone knows of a product that would replace CA-Vantage……something better & less expensive?  I responded, 'I know the perfect product – DTS's SCC MONitor and Explorer'!! 
Last year I replaced CA-Vantage on one of our systems with DTS's SCC MONitor and Explorer. Monitor is like CA-Vantage in that it monitors pools/storage group utilization, provides real time snap shots of datasets (or scheduled snap shots) and initiates 'defined actions' (issue commands/submit jobs) when an event or specific incident occurs.  Explorer is a PC interface much like CA-Vantage's. The products fit our needs perfectly and the vendor was EXTREMELY helpful with the installation, setup and customization so it worked exactly as needed."
Jo Hudson
Storage Programmer Senior
Experian
During the early years of our company, the ability to actively monitor a storage subsystem was always near the top of the DTS future projects list. Since DTS develops products that act on storage conditions and events, the future product had to be much more than just a reporting tool.
During the design phase for Monitor, DTS wanted to create the following user interfaces to the product:
printed reports
messages
the creation of customizable fixed format data records for customer processing
an ISPF interface
a PC Application for storage administrators
Once the developers defined "storage subsystem", it took several years to write a product that could read all the different inputs, and then use the rules language to create all the different output formats.
After releasing the first version of Monitor in 1998, DTS created a large body of generic storage management rules and reports that might be useful to a storage administrator.  This was followed by the Monitor ISPF interface.
The original design for SCC MONitor included a PC based GUI application that used a database tier to provide access to both real-time and historical storage management information. DTS tackled this last phase of the Monitor project, and created the first version of SCC Explorer using Java.  Unfortunately, the first design was overly complicated and we learned that Java is not well suited for developing and maintaining GUI applications.
The current release of SCC MONitor includes a new Windows-based version of MON-Explorer. By default, the new application uses a two-tiered implementation – the PC-based GUI makes requests directly to the mainframe-based Monitor.  If an installation requires a large amount of historical information about the storage subsystem, or needs to run frequent complex queries, an optional database tier can be easily added.
After years of hard work, the SCC MONitor and MON-Explorer have the polish of mature software products. They are easy to install and rarely require customization. However, the rules language in Monitor and the scripts used by MON-Explorer allow easy enhancements.
The most recent addition to the Monitor suite has been the MON-iPhone application. The iPhone/iTouch/iPad application communicates through the DTS DIF started task to work with SCC MONitor, MVS Console and TSO commands, system utilities, as well as third party software products. The application can perform storage management and installation defined actions on the host.