As a data center manager, you know that reliability is everything. After all, it's your reputation on the line when something goes wrong. In a 2019 survey by the Uptime Institute, 60% of respondents reported that their most recent downtime incident was preventable with better management — a figure that grew to 74% when the outage cost more than $1 million.
There are lots of factors that can lead to issues with outages and downtime, but at DTS Software, we believe that storage is one of the most fundamental pillars of application integrity. When storage is unavailable or difficult for an app to procure, the best possible case is throttled performance, but a more likely scenario is an ABEND that could jeopardize critical business services.
Taking Back Control
To improve reliability and provide a set of centrally managed policies enforcing storage allocation standards, one of the first products DTS Software created was Allocation Control Center (ACC) Monarch. ACC Monarch is somewhat analogous to ACS Routines in that it allows you to control a dataset based on a series of variables, but with greater granularity and improved capability to change dataset attributes. Whether you're looking at the DCB characteristics of the dataset, other characteristics for VSAM datasets, or anything you might code on IDCAMS such as free percentage or log stream ID, ACC Monarch allows you to decide how that dataset will be treated based on that information.
These policies are carried out by a policy rules engine running under the Dynamic Install Facility (DIF) Started Task, which loads code into storage.  As a result, any time a job starts, a step starts, or a dataset is created, opened, or deleted, ACC Monarch offers you detailed control over that dataset based on almost any of its attributes. This control enables the creation and systemwide enforcement of a robust set of standards, and because they don't require the alteration of JCL, they can easily be altered via START, STOP and REFRESH commands.
Besides examining and setting attributes of datasets and jobs, policy rules can also write an SMF record, issue a WTO to the system programmer, write to system logs or TSO users and more. This functionality creates a valuable means of communication, in addition to the many other capabilities available to users of ACC Monarch.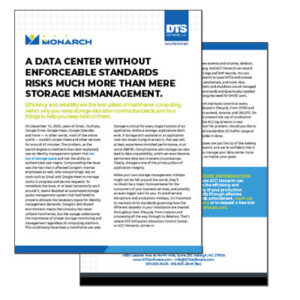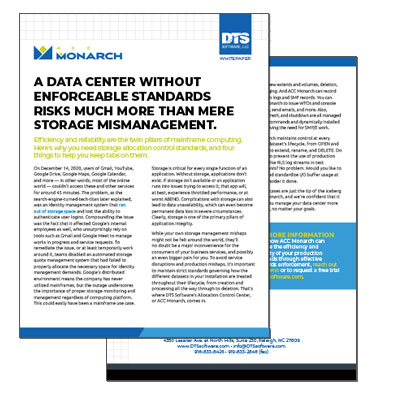 DTS Software began offering specialized z/OS Storage Management and Systems Software in 1991, and ACC Monarch has been one of our flagship products since. Like the rest of our products, developing ACC Monarch in-house using a policy rules engine allows our software to perform tailored actions with the capacity for central management.
For more information about how ACC Monarch can improve the efficiency and reliability of your production workloads through effective standards enforcement, watch our in-depth webinar or download our related whitepaper today. Reach out for a demo or to request a free trial of any of our products. Whatever you need — we're here to help.